Martin Ocean Transport Plane Cutaway, 1936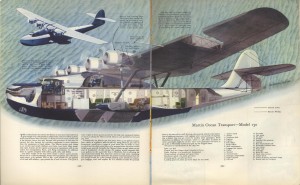 A great airplane cutaway from Fortune Magazine 1936 (Large Size Image):
The revolutionary fact about the Martin is that more than half of its gross weight of 51,000 pounds is useful load, instead of about a third, which has hitherto been the limit.  In flying across an ocean useful load is the decisive factor, not only because vast quantities of fuel must be carried, but also because the requisite equipment is more elaborate than the equipment of land planes.  The Martin carries such things as an anchor and winch, lifeboat and belts, boat hook, bilge pump, and ropes, besides all the regular aeronautical equipment such as two radios, fire extinguishers, flares, and flying instruments.  In addition there is a galley complete with icebox, grill, sink, and dishes.
Please follow and like us: