Volcano Redoubt in You Only Live Twice (Film – 1967)
The true face of the James Bond series, at least throughout the Sixties and Seventies, isn't Sean Connery.  It's a German-born set designer named Ken Adam.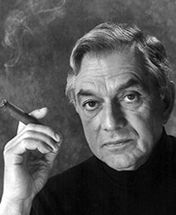 Born in Berlin in 1921, trained as an architect in London, Adam's hand has influenced film style through movies such as Chitty Chitty Bang Bang, The Ipcress File, Goldfinger, Dr. Strangelove, and countless others.  But his greatest, or at least his most costly, achievement was the volcano redoubt in the 5th offering of the Bond series:  You Only Live Twice.
From Fleming's Pen to Pinewood
In the movie version, James Bond infiltrates evil villain Blofeld's secret hideaway located inside of a hollowed-out volcano in Japan.  Complete with a sliding door on top.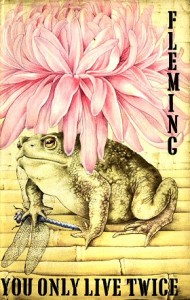 Published in 1964, Ian Fleming's novel had nothing of the sort.  It wasn't a volcano, and it wasn't Blofeld's.  It was a castle that belonged to a Doctor Shatterhand.  In the novel, Bond views the castle:
…the soaring black-and-gold pile reared monstrously over him, and the diminishing curved roofs of the storeys were like vast bat-wings against the stars.
Clearly, Adam and film director Lewis Gilbert had to come up with something that would better appeal to late-Sixties sensibilities.  Something bigger.  Something more contemporary.

The Volcano Rises
Even though exterior shots show a real volcano, Pinewood Studios, about 20 miles from London, became the location for building the interiors of Blofeld's volcano.  Cost was projected at $1 million.
The volcano could be seen from miles around the Pinewood studios.  It rose 120 feet and consisted of a movable helicopter platform, a working monorail system, a rocket launching complete with a full-scale rocket.
It is estimated that 700 tons of structural steel and 200 miles of tubular steel were used.  But it wasn't a permanent structure.  They also used a quarter million square yards of canvas and 200 tons of plaster.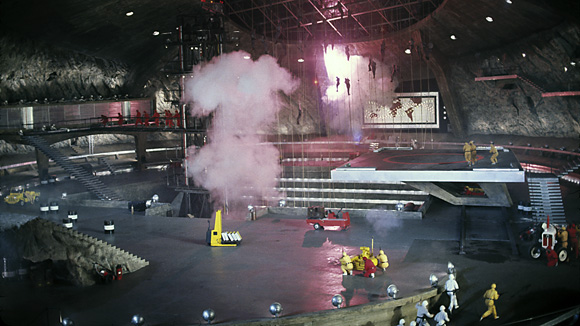 The Volcano's Legacy
The volcano set wasn't by any means the first grandiose Bond set.  The Ft. Knox set in Goldfinger rivalled it–but it was certainly the biggest.  It opened the way for an era of large-volume sets such as Adam's supertanker set in The Spy Who Loved Me.
Short Video…
See a short video about the volcano hideout from You Only Live Twice.

Please follow and like us: