When Jim Morrison of The Doors Stayed at the Hyatt Regency Atlanta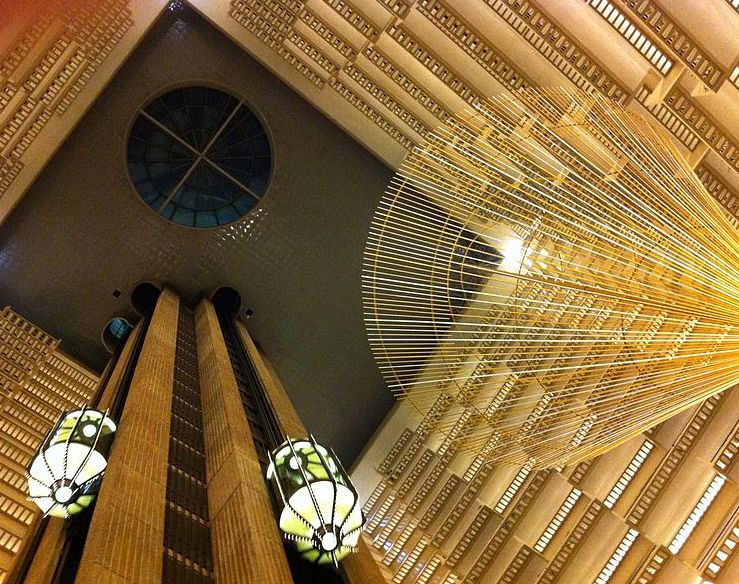 The Hyatt Regency Atlanta, built in 1967, is famous as one of the first–if not the first–example of a large atrium hotel.  The inside of this 22 story is scooped out, with rooms facing each other and public spaces below.
Built by John Portman, the Hyatt Regency–originally Regency Hyatt House–is an architecturally significant building that has now been rubber-stamped all across America thousands of times over.  But at the time, it was a big deal–big enough that even Jim Morrison of The Doors stayed in it.
Morrison and Lisciandro in Atlanta
In May 1969, Morrison and pal Frank Lisciandro attended the Atlanta International Film Festival to accept an award for the Doors' documentary Feast of Friends.  He and Frank attended a
…"rent party in a nearby old Victorian home (rent parties…for the uninitiated, were designed to raise emergency funds to keep the landlord at bay and have a good time in the process)…  Morrison was 'open, approachable, funny, and friendly' at the party.'  He helped out in the kitchen preparing snacks, picked out albums, changed records, passed out beers, and listed to complaints about cops.

Break on Through:  The Life and Death of Jim Morrison, by James Riordan, Jerry Prochnicky
Later, at the awards ceremony, Morrison accepted the award plaque and gave the beautiful-looking woman giving out awards the key to his room–at the Hyatt Regency.
Still from Feast of Friends:
Morrison Says About the Hyatt Regency…
In a 1970 interview, he was impressed enough with the Hyatt Regency Atlanta to say:
MORRISON:  …Atlanta has the most amazing hotel you've ever seen.  Um, you walk in, and from the outside it looks like any other large hotel.  You get in and you look up and it goes up about 27 floors and the interior is like a Spanish courtyard, and, and architecturally it's hollow.  So all the rooms face each other across this vast garden-arena.  And the elevators are like, um, kind of a Victorian rocketships and the…they're glass and so…um.  And you go up, you go up to the restaurant on the penthouse level and it's completely encased by glass.

INTERVIEWER:  It goes up the outside of the building?  The elevator?

MORRISON:  No.  No, the inside.  And you get this strange sensation, rising up 27 floors in this glass elevator.

INTERVIEWER:  When you were traveling by car, you didn't have any–

MORRISON:  Somebody jumped one time from the–  Somebody jumped and landed–  They have a restaurant in the middle of it, and somebody landed in the middle of the restaurant and uh, I hear it was really horrible.
YouTube Interview where Morrison mentions Hyatt Regency Atlanta hotel
Please follow and like us: