Cutaway Collection
What has happened to the lost art of cutaway drawings? In this age of fast computers and gaming consoles, we can navigate 3-D environments virtually and duplicate the sensation of walking through spaces. So, why would anyone be interested in cutaway drawings?
For one, there's something to be said for viewing a secret place all at once. With walls, doors, and other barriers stripped away, any building or mode of transport suddenly has a secret feeling. You can see the relationship between, say, a submarine's bunks and weapons storage. Sleep tight with that nuclear weapon below you!
Cutaway Buildings
This has got to be the most detailed building cutaways I've ever seen. It comes from a Fortune magazine and has hidden stories and interactions between the people inside. It's a must-see (and a must-enlarge). I even loaded it into my Sony Vegas and ran a bunch of close-up zooms and pans, then turned it into a short video–all so you can get a closer look. As a postscript, I'll note that after drooling over this hotel cutaway for a few week, I found out later that it was executed by crack commercial artist Frank Soltesz.

Also see Video of 1947 Cutaway Hotel: "Exploded Hotel"
In popular media of the mid twentieth century, there was a kind of fascination with picking apart the intricate workings of mundane things. Here we've got a Fortune magazine cutaway of a building, showing the flow of air in a typical office HVAC environment.
Another work of art from King of the Cutaways, Frank Soltesz: this one an ad for Armstrong Cork, showing the inner workings of a department store.
There must be at least 50 different ways to cut away a cutaway building, and this is one of my favorite: the can-opener technique. Simply use your imagination's can opener and take that top off. But be careful to leave everything else intact. This great ranch house cutaway from the Fifties comes from that great source of cutaways–Popular Mechanics.
Cutaway Submarines
The Scorpene subs are 66 meters long and developed jointly by Spanish and French companies. The navies of Chile, Brazil, Malaysia, and India operate Scorpene-class submarines. This is a fairly nice Scorpene sub cutaway, though a little too stylistic for my taste. I tend to like the more detailed, workmanlike drawings.

An adequate cutaway of an Astute-class sub. It's finely detailed, but has little mood or soul to it.
Cutaway Bunkers and Silos
Visit the Tucson, Arizona area, and you'll be able to visit an honest-to-God Titan Missile installation. This is what's inside.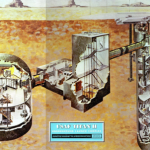 Cutaway Aircraft
The Hindenburg is one of my pet projects. Sure, other than that minor detail in Lakehurst, NJ in 1937, I think that giant hydrogen-filled airships would be a fine way to cross an ocean. This Hindenburg cutaway shows the upper "A" deck, where most of the action happened.
I love the colors and "rounded" style of this Flying Boat cutaway from a 1930's Popular Mechanics.

Built in Seattle, Washington in the mid 1930s, the Yankee Clipper flying boat clocked many hours and served as a springboard for fledgling Pan American Airways.
A flying boat called the Martin Ocean Transport Model 130. Good shadowy effects inside and realistic people.
Cutaway Land Transport
Admiral Byrd's Snow Cruiser
Beautiful cutaway of the 55 foot Snow Cruiser designed by Dr. Thomas Poulter for Admiral Byrd's Antarctic expeditions.
Cutaway Drawings and Resources

Be sure to (join) and check out a great Flickr group called "Cutaways – It's What's Inside That Counts!"
Please follow and like us: