Lee Van Cleef, Official Badass and Savior of Little Dogs
Everybody knows the Lee Van Cleef of late 1960s spaghetti Westerns. So why should I put him in the category of People You've Never Heard Of? Because there are two sides to him that many people don't know about. The first one–Van Cleef as a film noir tough–is not known to most people who only know Van Cleef from Westerns. This Van Cleef is known to film buffs.  The second–Van Cleef as the rescuer of tiny dogs–is less well-known.
Long before Van Cleef appeared in For a Few Dollars More, The Good, The Bad, and The Ugly, and other Italian-directed Westerns, he burned up the celluloid with his portrayals of film noir heavies.
Because my memory is not what it used to be, I'm always discovering Van Cleef anew in film noir movies. I will encounter this "unknown' actor with a sharp visage, hawk-like nose, and wolf eyes, and I will think: Oh my God, this dude (whoever he is) can really command celluloid attention. Then I IMDB him and find out it's Lee Van Cleef.
Van Cleef was a quiet, menacing presence in classics like Kansas City Confidential and The Big Combo.
In no way could he ever have been a leading man–at least for that time. Predatory and animalistic, Van Cleef had too much menacing dark-sexual energy to be a leading man in the Fifties and Sixties.
Also it turns out that he was a real-life badass.  Van Cleef served in the U.S. Navy during WWII  as a soundman and while his ship was in the Mediterranean, he heroically leaped off to save a dog–recalling another heroic badass who attempted to save a dog while chomping on a pipe, F. Bert Farquahrson.
SAILOR DIVES OFF SHIP TO SAVE PUP WASHED INTO SEA

How he dived 30 feet from the bridge of the mine-sweeper into the Mediterranean with the pipe he was smoking still tight in his teeth, and won himself a four-legged pal at the same time, is the story told in a letter home from Soundman 2c C. Leroy Van Cleef Jr. 20, U.S. Navy of 198 North Bridge St. H wrote his parents:

"We were along the coast and had our new mascot aboard. It was a fairly heavy sea (and cold water, I might add). Our mascot happens to be a spaniel of some sort. We call the water-loving hound 'Rusty'.

"Well, Rusty was out on the fantail this day and a wave came along, washing her overboard. We had to get permission to break formation and go back for her. That took us about 15 minutes until we finally found her. I was up on the bridge at the time, smoking my pipe. Well, I shed the knife I had on and my shoes, and yelled up for permission to go after her. 'Permission granted.'

"So I dove off the bridge. When I hit the water, I heard something snap in my mouth. That happened to be my pipe while diving about 30 feet. I don't know how my teeth escaped breaking. Luck, I call it. However, I got Rusty all right. She was swimming to beat everything. Quite a current too. They threw us a life ring and pulled us aboard.

"Yesterday I was out on the fantail and the sea was rushing up on the deck. Rusty came up and snuggled around my legs. I guess that swim was worth my favorite pipe."
Van Cleef Real Life: Addendum
With many actors, it can be hard to pick apart their histories prior to fame. They seem to only exist in fame mode. But there is no shortage of information about Lee-Van-Cleef-as-a-real-person.
For one, we know that when he was ten years old, he fractured his wrist. From the Bridgewater NJ Courier-News, July 9, 1935: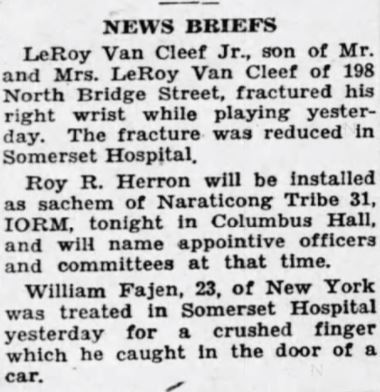 As a side note, it's rather touching that the local paper reported on children's' fractured fingers and wrists.
From the same newspaper dated Monday March 29, 1937, we know that Van Cleef was confirmed by the First Reformed Church (probably the previous day, Sunday):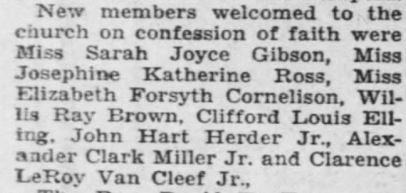 Please follow and like us: