Monsanto House of the Future: When Our Future Was Made of Plastics
Built in Disneyland in 1957 as a joint project between Disneyland, Monsanto, and MIT, the House of the Future was constructed of 16 identical plastic shells that were fabricated off-site and then shipped to the building site for assembly.  The home was meant to display technological marvels, such as the microwave oven and speaker phone, but mainly showed the many ways that plastics could be incorporated into home-building of the future.  Materials included:  Acrylon, melamine, rayon, vinyl (flooring), and even plywood.  Each of the four wings was capable of supporting 13 tons.  Besides showing off the wonders of plastic, this was an attempt to build a home of fewer but large parts rather than the current (and still current) method of building homes of many small parts.
Floor Plans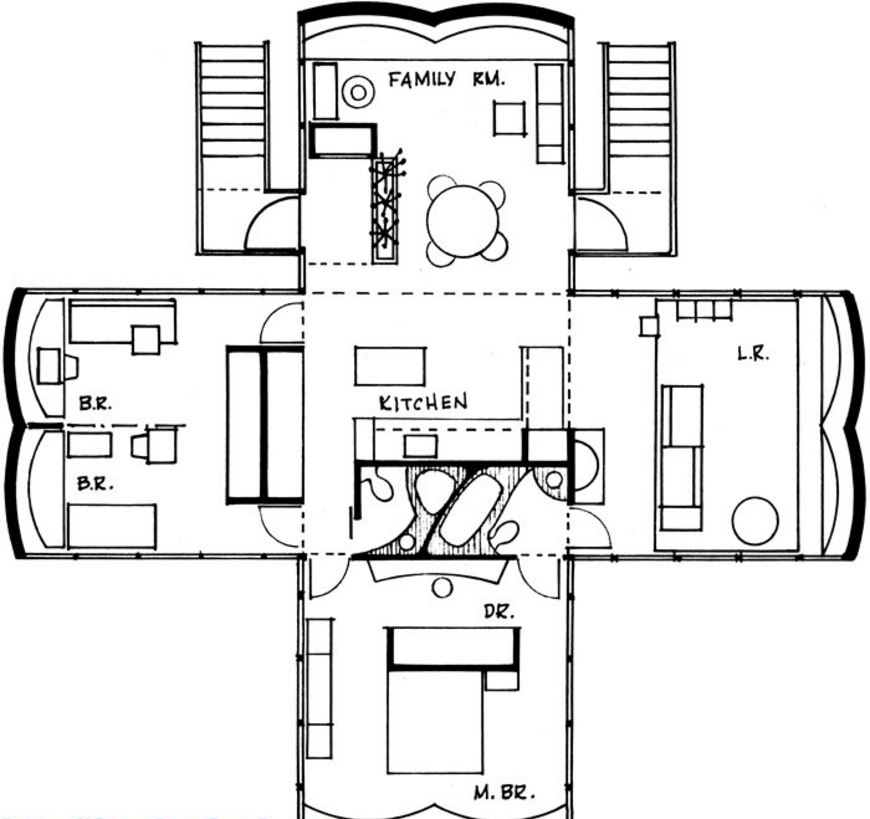 Cross Section
Dimensions:  Each wing was 16 feet long and the utility core was itself a 16 foot square.  Thus, total length was 48 feet.
Under Construction
Exterior:  PR Materials and Tourist Images
Interior – Living Room
The living room was the swankiest area of the house, with a futuristic (and presumably non-functional TV) and both built-in and free-standing custom-made furniture that was curved to follow the curves of the house.
Interior – Family Room
The family room, like many mid-century modern homes of the time, had a family room, intended as a more casual place for family (meaning:  kids) to hang out in.  Since the house did not have a separate dining room area, this doubled as dining facilities.
Kitchen – Utility Core Area
The kitchen occupied the central section called the utility core and was by far the most technologically advanced room of the house with a microwave, ultrasonic dishwasher, cabinets that electrically descended from the ceiling, and not a refrigerator but a "cold zone" divided into three functional areas:  cool refrigeration, frozen, and cool irradiated food.
Interior – Second, or Children's, (Divided) Bedroom
The second bedroom could be divided into two areas with a light-weight accordion door.
Interior – Master Bedroom and Vanity Area
The master bedroom occupied an entire quarter, or wing, of the House of the Future.  It had its own bathroom which, as a promotional film stated, was constructed out of just two pieces.  The bathroom had its own intercom and closed circuit TV system for communicating with callers at the front door.
Please follow and like us: