Sad Devolution of Cracker Jack Prizes Mirrors Decline of America
It's early April 2016.  You're a junior associate at a PR firm.  You get an e-mail from your boss, Haston Lewis, senior director of marketing, Frito-Lay, saying, "Cracker Jack is dropping its prize and replacing it with a scannable code that will unlock four baseball-themed experiences on their mobile device.  Let's sidestep the fact that the physical prize is being dropped, OK?"  And then the junior associate gets to work, pounding out PR-speak like
With this redesign and new mobile game experience, the Cracker Jack brand embraces a modernized, young-at-heart attitude while keeping that treasured feeling of childhood wistfulness.
Yes, this is a fictional look at what might have transpired.  But what's true is this:  We are not fooled.  Sadly enough, the ascendancy, decline, and fall of the Cracker Jack prize–from The Metal Age down to what I call The Nothingness Age–follows the course of U.S. manufacturing.
The Metal Age
1930s:  Figural Tin Whistles
1940s:  Coins Commemorating U.S. Army
Paper prizes added to Cracker Jack during WWII to conserve resources.
The Plastic Age
1950s:  Miniature Dishes
1960s:  Colorful Plastic Animals

Dome Dog 1960s Cracker Jack Prize1970s:  Rectangular Mazes and Games
The Paper Age
1980s to 2000s:  Flat, Dumb Pieces of Paper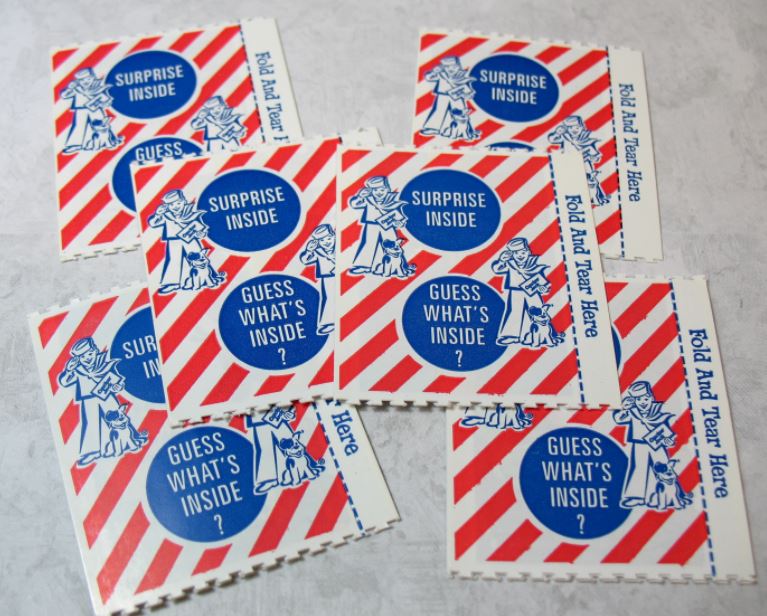 The Nothingness Age
2016:  Q Code That Unlocks Baseball App
Please follow and like us: