Margarine Mascot Monkey Gives Birth in Pipe Organ
On October 31, 1919, we find that a monkey named Nuko escaped, ran amok, hid in a pipe organ in San Francisco's Civic Auditorium (now Bill Graham Auditorium), and gave birth. What happened?
For those of you unlucky enough to be born in the 21st century, I can tell you that the entire history of the 20th century reads like this: monkeys treated like humans, then running amok. Really, monkeys were everywhere back then. Grab any newspaper from that century and you will find a story of these rapscallions doing mischievous things.
Random pick: on May 5, 1919, the Oakland Tribune reports: "Jailed Monkey Picks Officer's Pockets; Freed." A simian named "Crown Prince," who was the trained monkey for organ grinder Manuel Luchesi, had picked the pockets of shipworker Robert Moran. The Tribune related that "first something sat on [Moran's] face," then picked his pockets. Moran put up a fight, kicking Crown Prince "across the lot."
If you think that was weird and hilarious, keep in mind that this kind of thing happened all the time back then. But it wasn't often that a margarine mascot monkey birthed in the bass clef of a pipe organ.
Nucoa Monkey Escapes!

It began this way. There was a Land show in San Francisco in October 1919, and there was an exhibit sponsored by The Nucoa Butter Company. Nucoa reigned for most of the 20th century as a prominent brand of margarine (now discontinued) with the claim that it was made with 97.5% coconut oil. The product's full name was Nucoa Nut Margarine. So nut + coconut = Nucoa.
The San Francisco exhibit featured Nuko, a trained monkey, eating coconuts against a painted backdrop of tropical islands. Nuko escaped and no one could find her.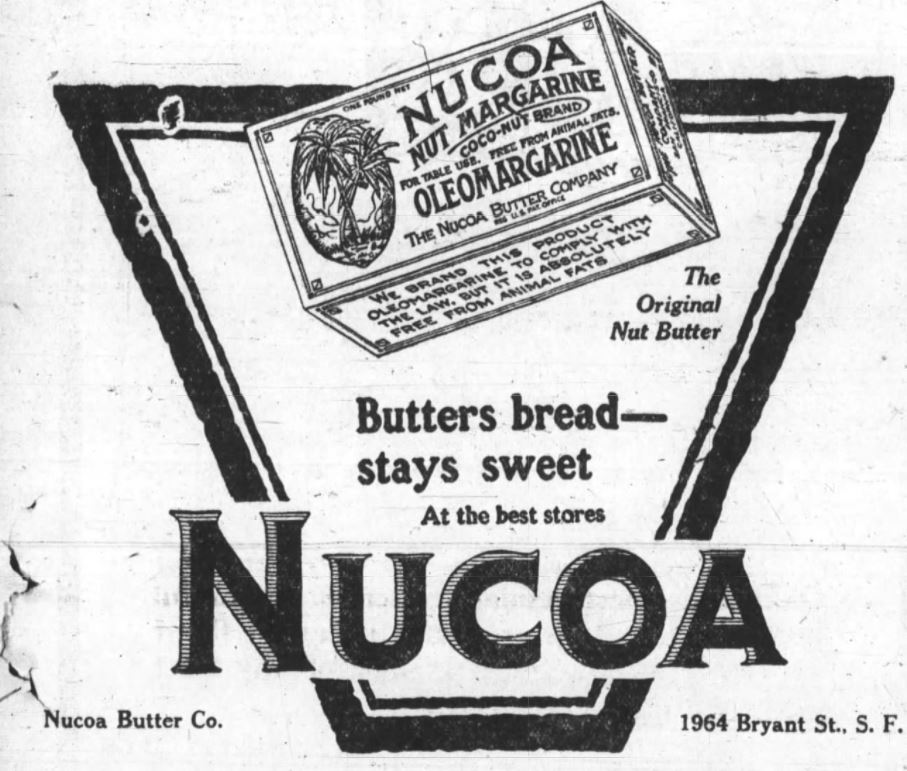 Monkeys in Exposition Organ

Called the Exposition Organ (because it was installed for the 1915 Pan-Pacific Exposition), this massive 40-ton organ is truly an impressive sight. Damaged in the Loma Prieta earthquake, the organ is currently housed in Brooks Hall (beneath the San Francisco Civic Center Plaza). It took five days, but she was eventually found: nestled in the bass clef portion of the organ with her newly-sprung hatchlings: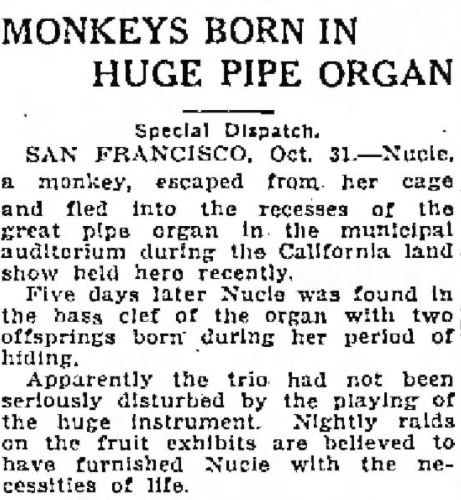 Please follow and like us: