See the Fake White House in Suburban Maryland: James J. Rowley Training Center
In an April 5, 1982 TIME magazine article, it was mentioned that a fake White House and Blair House (the little auxiliary house across Pennsylvania Avenue from the White House) were going to be built in Beltsville, Maryland:
Thomas Jefferson, the architect President, designed parts of the White House. Now with Ronald Reagan, the thespian President, there are plans to build a movie-set White House in the Maryland suburbs. The Secret Service plans to put up the mock White House (and a false-front Blair House, the nearby VIP guest quarters) so that its burgeoning presidential security force can properly learn the particulars of the presidential mansion. With 3,000 recruits being trained this year, maneuvers are difficult to conduct around 1600 Pennsylvania Avenue. Explains Special Agent Mary Ann Gordon: "It's better if you know the lay of the land."

The new project at the Secret Service's training center in Beltsville, Md., may not be finished for years. Nor will a full-scale chimera come cheap. The Hollywood White House is budgeted at $381,000—just about as much as it cost to build the original 182 years ago.
On a Google Map, the Secret Service training area is very clear.  But the White House part of it is not clear.  I have to guess that the photograph at the top is of the White House, due to the general shape of the building and the circular driveway.  If so, that's a pretty unconvincing White House.
Training Facility Overview, 2009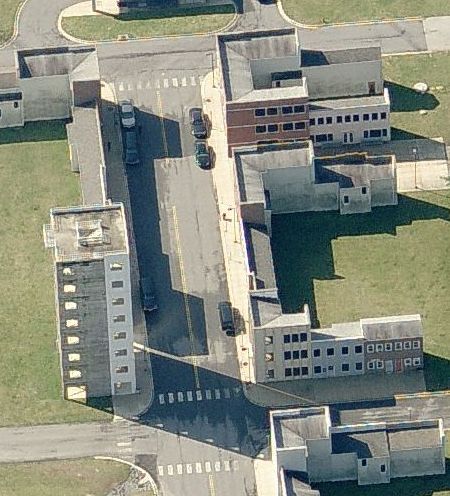 2017 Update
2017
2017 View of Replica White House
Please follow and like us: