Water Feature Designed Like a Dark Ride: Boulder Falls Inn, Lebanon Oregon
Water features are completely unnecessary, and that's one reason why they are so great.  There is a water feature located in an unlikely place that is a textbook case in how to design a water feature and peripheral landscaping like a narrative dark ride.
Water in the Middle of Nowhere
Driving 8 miles off of Interstate 5 in Central Oregon, you're first confronted with wide open farmland, old barns, and horse stalls.  Then Lebanon starts up, and then there's the Laticrete plant, then the large Samaritan Health campus, which encompasses among other signs of little Lebanon's economic strength.
The Boulder Falls Inn, a Best Western Premiere hotel, sports a surprising addition:  a massive Japanese-style water feature whose footprint is at least as large as the hotel grounds.  It's a beautifully designed adjunct that, unfortunately, teeters on the edge of neglect and extinction–just like most large water features.  In late 2016 and in early 2017, two bodies ended up in the pond.  First, a man reportedly "tripped" and fell into the water and was immediately overcome with hypothermia and had to be rescued by divers in dry suits.  Then in February 2017, an indigent man's body was discovered in the pond in the early morning hours.
Slow Intro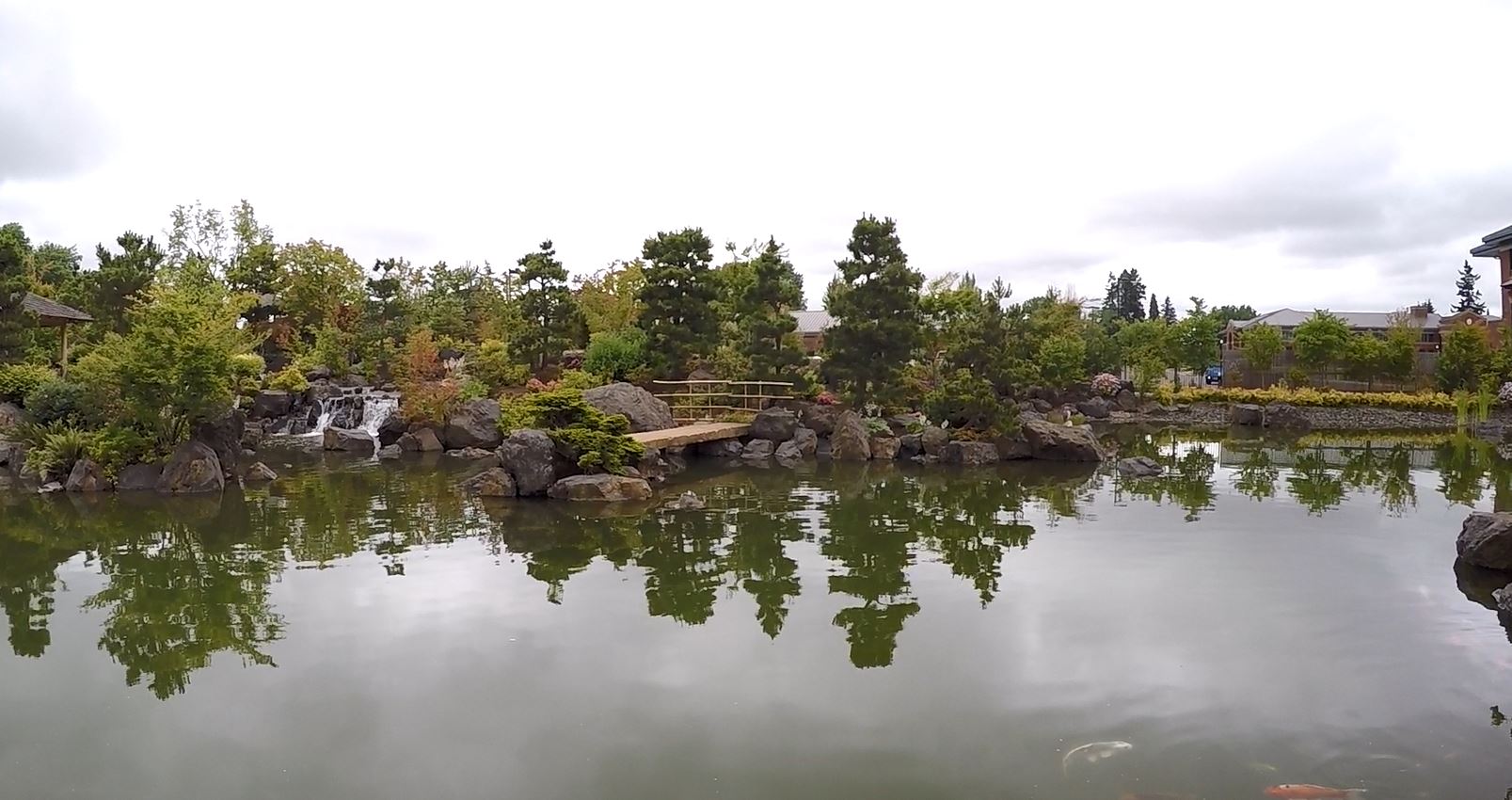 Designed by Kurisu International, which also created the Samaritan Lebanon Community Hospital Healing Gardens across Santiam Highway from the inn.  Stutzman Services installed the huge pump system that keeps the water flowing.
Mapping the Back and Forths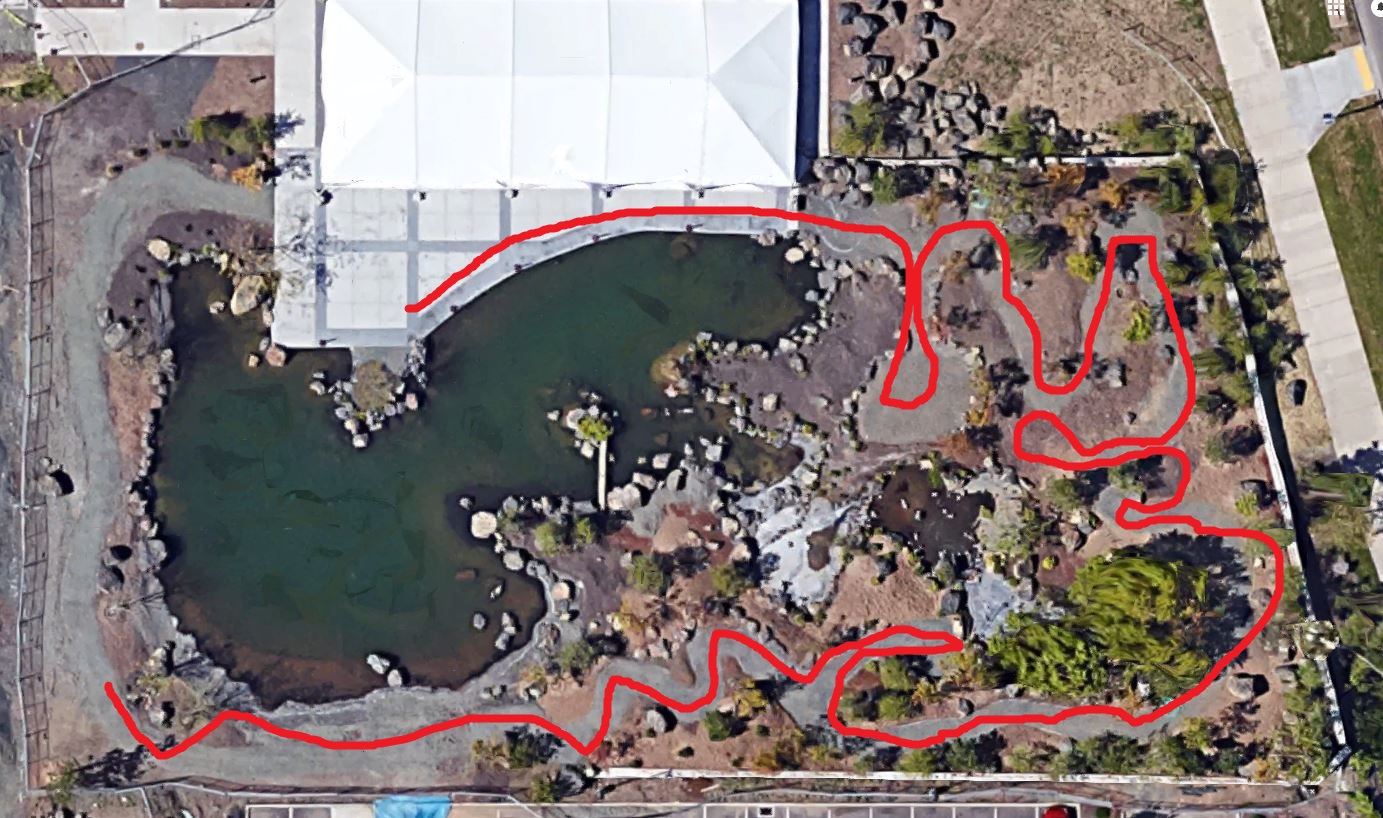 Map shows the various ways Boulder Falls' pathway loops toward and away from the water feature, a classic method for making a small place seem larger.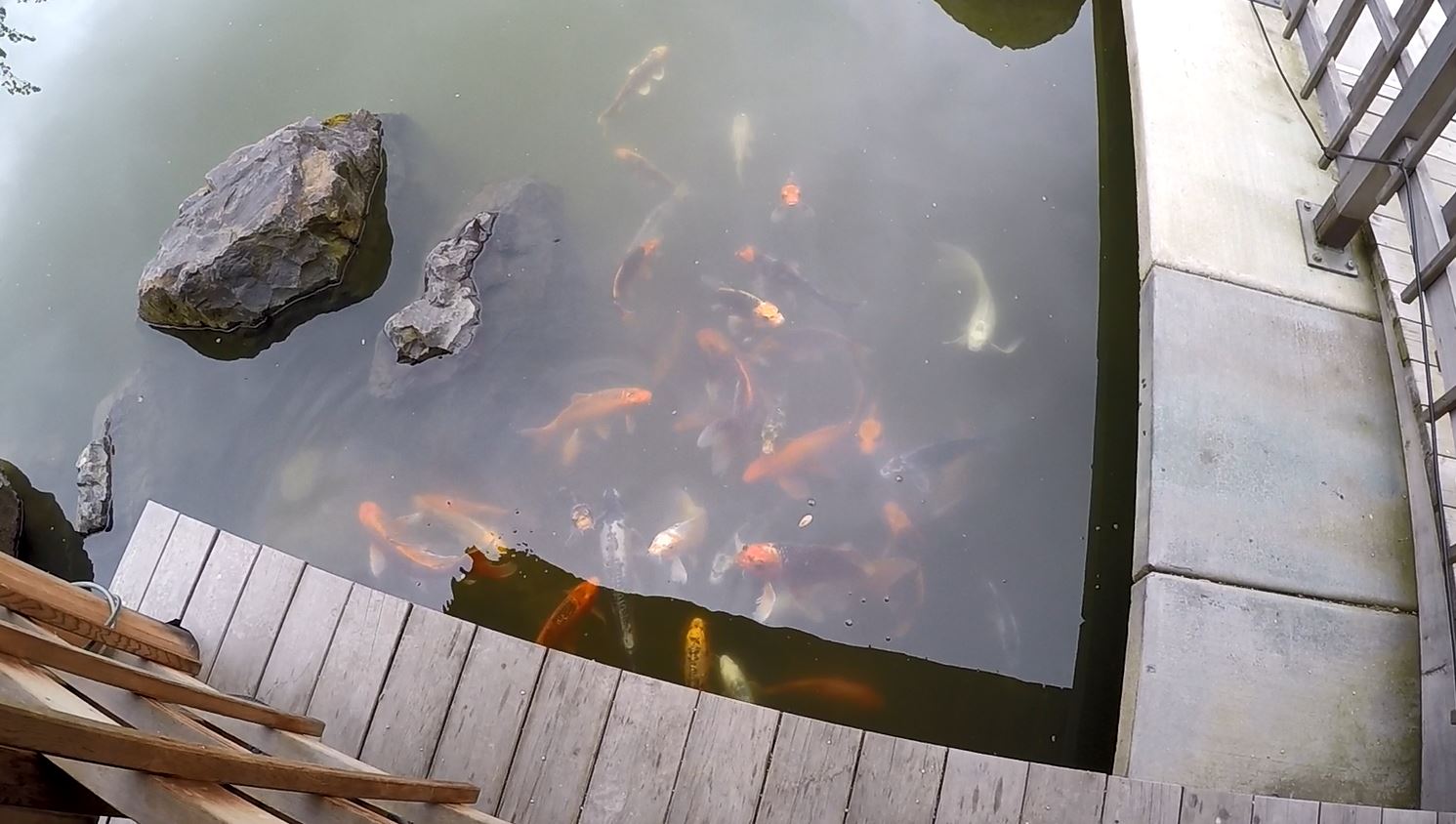 This water feature works best at night, making it akin to a theme park dark ride.  The slow introduction gives you an expansive view of the entire pond.
Switchbacks Add Length and Sense of Mystery at Night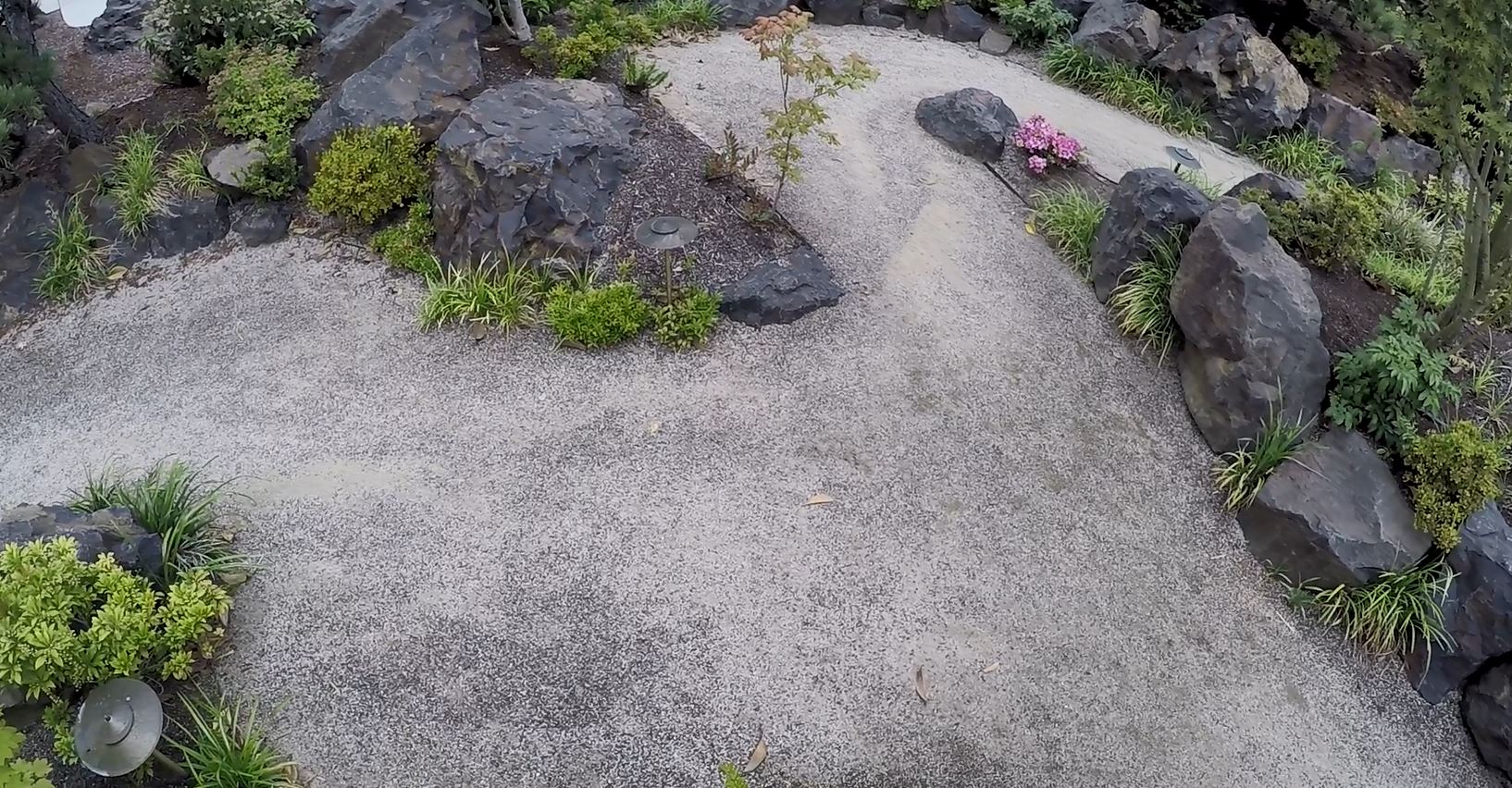 As you continue clockwise, you encounter switchbacks that make the "ride" longer.  Ground-level lights heighten the sense of mystery, because you have little-to-no view of what's around or ahead.
Dark Alley Section
Outside World 
The pathway veers just a little too close to the roadway and parking lot, ripping away the illusion and bringing you back to reality.  The meager evergreens planted around the perimeter do nothing to maintain the illusion.  Instead, there should be thicker, leafier foliage to effectively block out all signs of reality.
Primary Climax Point:  Main Waterfall and Stream
The ride hits a primary climax point with a sideout view of the large waterfall and stream.  At the bottom is a secondary climax, with a view of the waterfall and stream from the other side.  Then the ride is effectively over, with a couple more switchbacks that unfortunately have too much of a parking lot view, ending up at the 1847 restaurant.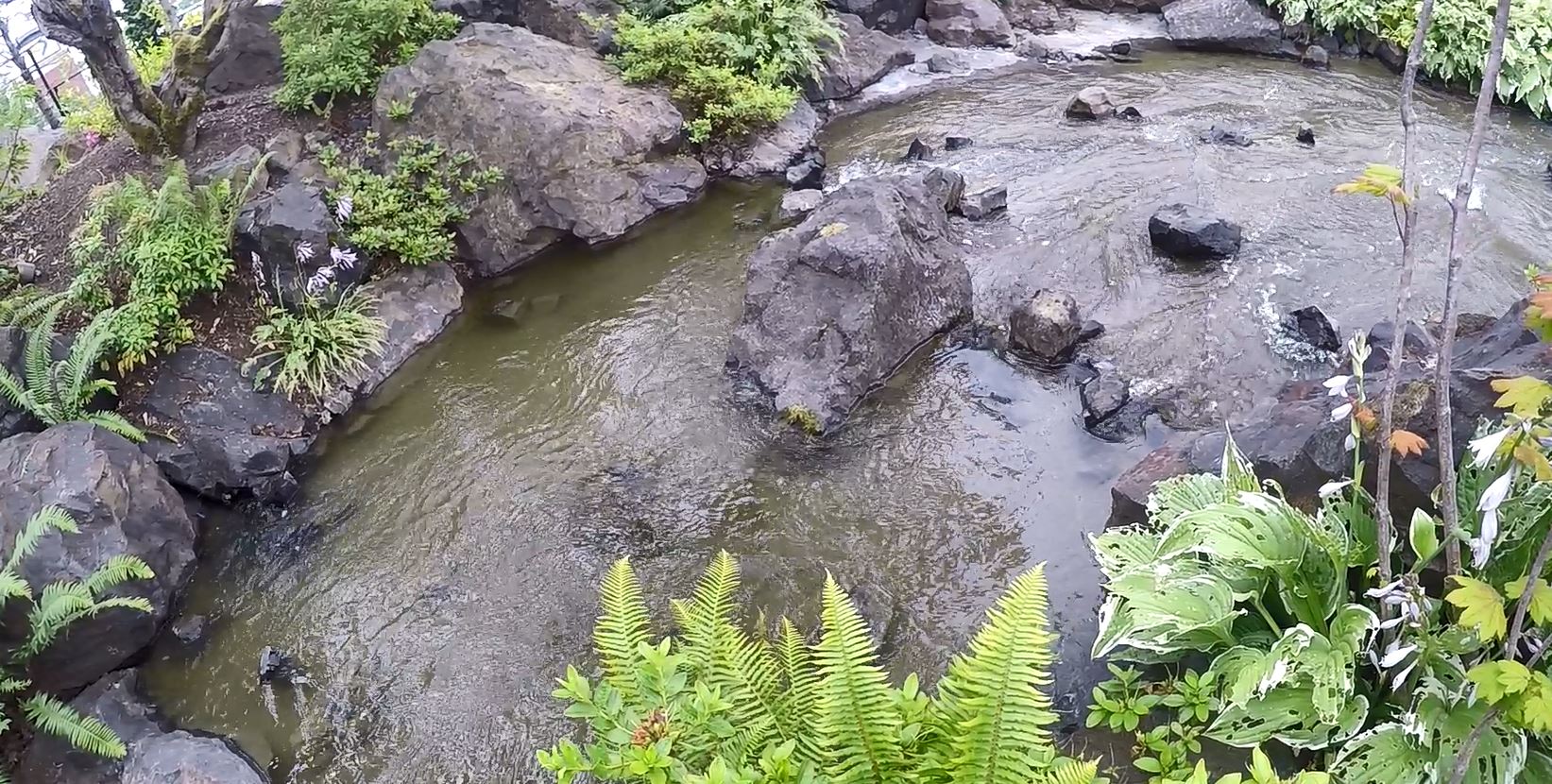 Secondary Climax Point
Please follow and like us: