Tiki Torch: See How This Icon of Mid-Century Polynesian Pop Culture Started
The Tiki Torch is both older and newer than you might think.  It's newer in the sense that the tiki torch–or let's use the brand name, Tiki Torch–burning in your backyard, the bamboo kind with a reservoir filled with petroleum-based fuel, has no basis in true Polynesian history.  It's older in the sense that those torches you see every spring and summer at Home Depot or Lowe's go back to the 1950s.
Summary
Tiki Torch is a brand name currently owned by Lamplight Farms, Inc., a "leisure and lifestyle brands" company.
Its initial MSRP was $4.99.  Many Tiki Torch brand torches today cost around that same amount.
Tiki Torch was originally produced in Belgium, Wisconsin.
The 1947 voyage of Kon-Tiki was the basis for the word "tiki."
1956 was Tiki Torch's first year, but it was a slow one, with products only being sold in the Los Angeles area.
Between 1957 and 1960 were Tiki Torch's biggest years before interest began to wane.
1956:  The Torch Is Lit
The word tiki is ambiguous, but it likely stems from the 1947 Thor Heyerdahl expedition of the balsa wood raft Kon-Tiki.  The point was to prove the theory that Polynesia was settled by South Americans.  Heyerdahl derived the name from the Incan god Viracocha, also spelled Con-Tici or Kon-Tiki.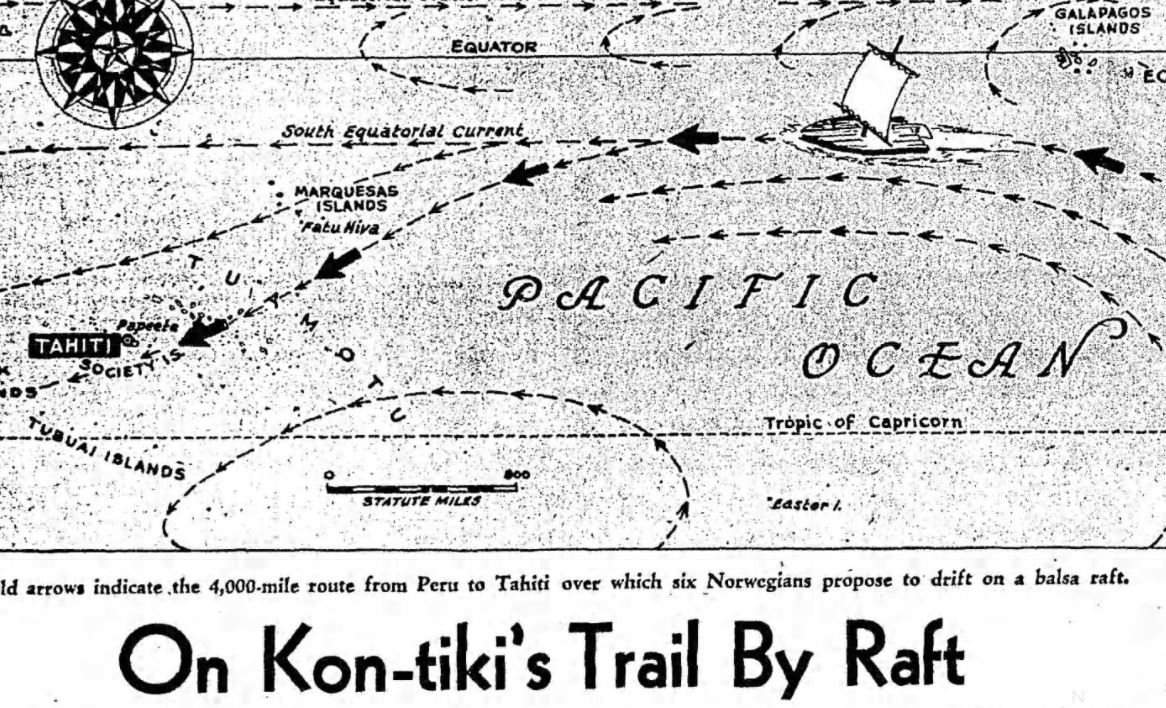 The Birthplace of Mid-Century Modern Polynesian Popular Culture: Wisconsin
In 1956, Tiki Torches began to be produced in the most un-Polynesia of all places:  Belgium, Wisconsin.  The original location–600 Park Street–is now occupied by Holiday Trims, Inc.
In June 1956, the first Tiki Torches began to be sold around the Los Angeles, CA area for $4.99 per torch and $0.99 for a quart of the safety fuel.  It was a slow start for Tiki Torch, with products sold only in the L.A. area that first summer.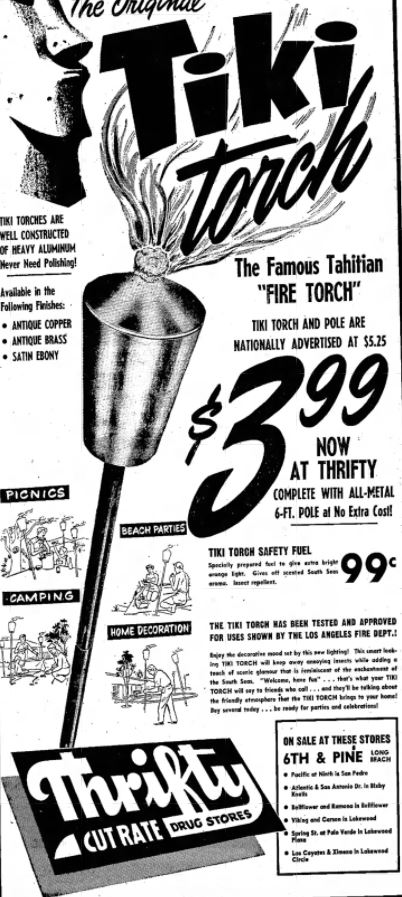 Surprisingly enough, the bamboo poles and reed housings that we are familiar with today were not present at that time.  The original Tiki Torches were constructed of 100% aluminum, in Antique Copper, Antique Brass, and Satin Ebony finishes.  The poles came in separate sections that were fitted together to form a single 6 ft. pole.  From an ad:
Enjoy the decorative mood set by this new lighting.  This smart-looking TIKI TORCH will keep away annoying insects while adding a touch of scenic glamour that is reminiscent of the enchantment of the South Seas.  "Welcome, have fun…" that's what your TIKI TORCH will say to friends who call…
By the end of summer 1956, LA-based pharmacy Thrifty had slashed the price by a dollar.  By September, Tiki Torches had pretty much disappeared from stores for that summer season.
It wasn't until December 25, 1956 that Tiki got around to filing the trademark on the name Tiki Torch.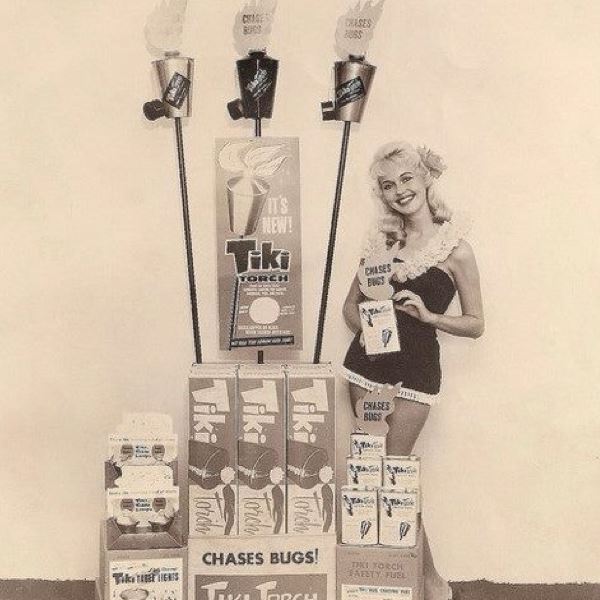 In the 1960s, Interest Wanes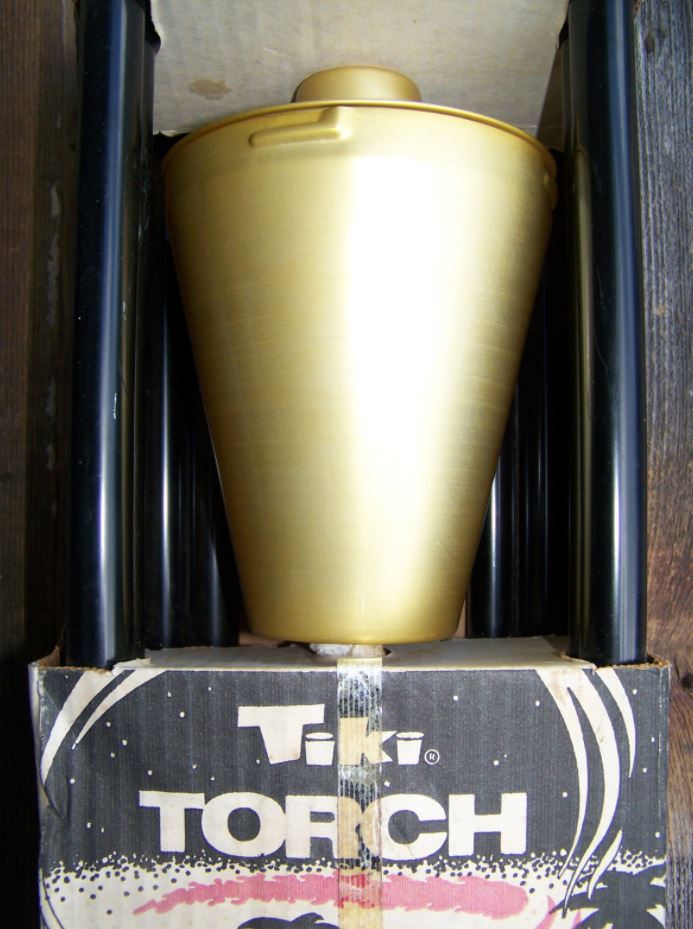 Next summer, Tiki Torches began to be sold across the United States. That $4.99 MSRP held firm for about three years, until interest began to wane around.  By 1960, Tiki Torches could be scooped up for as little as $0.99 in some California stores.
Other brands, such as NOMA Luau Torches, Tonga Torches, Mai Kai Torches, and Tropic Torches, began to dilute the market, as well.
Tiki Torches and tiki culture in general were moribund through the period 1965 to 2003.  Interest in mid-century modern Polynesian culture rose again in the mid 2000s when Sven A. Kirsten published the Taschen book The Book of Tiki.  The Mad Men series also helped contribute to this mid-2010s interest in Polynesian pop culture, especially in Season 6, when Don and Megan go to Hawaii.
Please follow and like us: